Joining the team is easy….
Step 1: Pay Online
The KC Wave has a fee structure that combines membership fees and practice dues. 
In January, team members pay Membership and Practice Fees for the first half of the year: 
$30 for membership
$10 if you are a student
KC Wave swimmers must register with United States Masters Swimming (USMS). This provides liability insurance for the team. You will get a swim magazine and the ability to participate in swim meets. If you do not have USMS membership, we will sign you up for an extra $50.

When you have your USMS membership number, send it to the team captains so we can add you to the members list that lets you get into the UMKC pool without paying the $10 day fee.
Step 2: Join our Facebook group
We use a private Facebook group to manage our team communications. Send an email to KCWave@gmail.com to join. We will email you an invite to join the group.
Step 3: Tuesdays!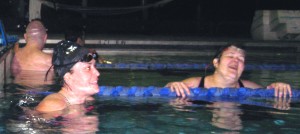 Commit to coming out to a Tuesday practice.  We swim on Tuesday evenings at UMKC's Swinney Recreation Center at 8pm.  Show up about 10 minutes early.
You can try before you buy.  Come to practice to see if you like the experience before you pay to join USMS or pay the KC Wave membership fees.    We will watch for you if you email us in advance:  KCWave@gmail.com (Put  "KCW" into the subject line.  It helps us separate your email from junk mail we receive.)