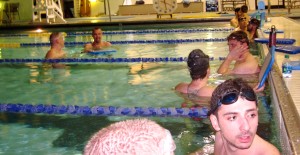 Currently, KC Wave holds one team practice a week at Swinney Recreation Center on the UMKC Campus, Tuesday evenings from 7:45 – 9pm. The facility is a 25 yard pool with 6 large lanes.  Locker rooms were beautifully renovated in 2009. 
Our workouts have three levels:  Hard, Harder, and Hardest.  The Hard workout is designed for Wave team members who have little or no experience with swim teams.  The Hard workout is intended to improve basic fitness, endurance, and basic swimming technique. The Harder and Hardest workouts are for team members with more experience.
If you want more information about the workout, check out one of our examples: 
You shouldn't be worried about getting through the entire workout, either.  Most of the people who join the team have trouble making it through our workouts the first few times they come.  It's normal.  If you haven't been swimming regularly, you ought to find a workout to be tough.  Right?   After a few weeks, you will be doing fine.

Practice Resources
The practice leaders use a variety of resources to come up with ideas for the KC Wave workouts.  Some of our favorites are:
Drills
We scoured the internet to find documentation on swimming drills to improve our technique.  The drills we found got rolled up into a document.  We did not write the definitions, we just use them!  
Other Practice Opportunities
Several team members swim at UMKC on a regular basis.  In fact, several team members are UMKC students.  If you ask, you will probably find a time when you can arrange to swim with a teammate outside of practice.
Team members also swim with the Kansas City Blazer's who have two practices a day at various locations in Kansas City.  Members who swim with the Blazer's must pay for a Blazer's punch card. Click here for Blazer's practice times.