After Practice
Each week, members of the KC Wave usually head to a local restaurant to re-fuel.  Our hour-long workout can be depleting, and we find that the best restorative is food….and beer.  🙂  "We swim for one hour, then we drink beer for two." 
Our favorite haunt is Charlie Hooper's.  Hooper's has a great menu, and $5 pitchers. 
Gay Games, OutGames, and IGLA Championships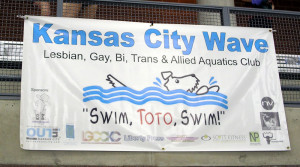 Every four years, gay, lesbian, and allied athletes from around the world come together for the Gay Games.  The KC Wave is there.  In 2006, 12 KC Wave swimmers participated in the Games in Chicago.  (It was a road trip!)   Even more impressively, 10 KC Wave swimmers participated in the 2010 Gay Games in Cologne, Germany.  We believe that the only gay athletes from KC to go Cologne Games were from our swim team.  In 2014, the Games will be in Cleveland, so that's another road trip!

The OutGames started in 2006 in Montreal. Copenhagen hosted in 2009.  In 2012, Antwerp will be the site of the OutGames.  That just might be fun!  (The Outgames organization and the Gay Games are planning to re-unite the two organizations – so the Cleveland Games in 2014 may be bigger than ever.)
In the years without a Gay Games or an OutGames, the International Gay and Lesbian Aquatics (IGLA) group organizes an annual IGLA Championship meet.  In 2013, the meet was in Seattle, WA.  Four KC Wave swimmers made the journey, winning Bronze in the 800 Free Relay (men, 160-199).  Paris, San Francisco, Fort Lauderdale, and Toronto have been past host cities.  The IGLA Championship is a GOOD time.  
If you start swimming with us now, you will be well-trained for one of the upcoming meets!
By the way, these meets are not all about swimming.  They are also amazing social scenes with really good parties!  🙂

Fundraising and Volunteering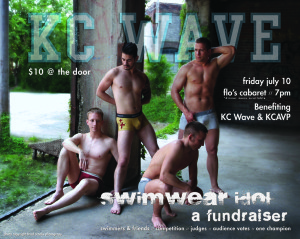 The KC Wave needs money.  We pay for pool rental, website services, and membership in IGLA.  Team membership dues cover a lot of these expenses.  The team also organizes fundraisers to help finance these activities.  From 2005-2010, the KC Wave staged an annual Fashion Show Fundraiser.  Each year, that netted about $1,000 for the team as well as about $1,000 for the Charity we partnered with:  KC AVP.
Other fundraisers have included Bingo Night at Hamburger Mary's, volunteering as timekeepers at local swim meets, selling raffle tickets at a gay bowling tournament, and garage sells.   It's always an adventure to see what fundraising opportunities come up next.
Team members also help other organizations.  Once or twice a year, the team is asked if we can provide volunteers for charitable events.  Typically, its "and we'd like you to wear you speedos"…..which can be fun.   Participation is completely voluntary, of course.

Other (Sports) Groups
A wide array of sports organizations serve gay men and lesbians in Kansas City.  The members of the KC Wave participate in many of them.   So, the KC Wave can also be a bridge to participation in other sports groups.  You can see a list of these groups by clicking here:  KC Gay Groups.
Meets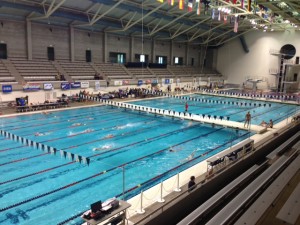 The Masters swimming organization for the Kansas City area facilitates several local meets each year.  Because all of the KC Wave must register with MOVY, all you need to do to participate in one of these meets is to pay the registration fee.  Local meets are a good way to get benchmark times, if you are interested in measuring your improvement.
IGLA teams can also sponsor swim meets in their own city.  These smaller IGLA meets can be LOTS of fun.  The KC Wave has attended (and won) a swim meet in New York on three separate occasions.  You can see a list of these meets on the IGLA website. IGLA Event Calendar
And More…
Trivia night at the Record Bar or the Nelson Atkins Museum.  Dinner parties.  Dancing on stage at Kansas City Gay Pride or having the DC Cowboys over for an after-Pride house party.  Focus groups.  AIDS Bicycle Challenge or AIDS Walk Teams.  Barista contests.  The activities the KC Wave may add to your life cover all of these and more.